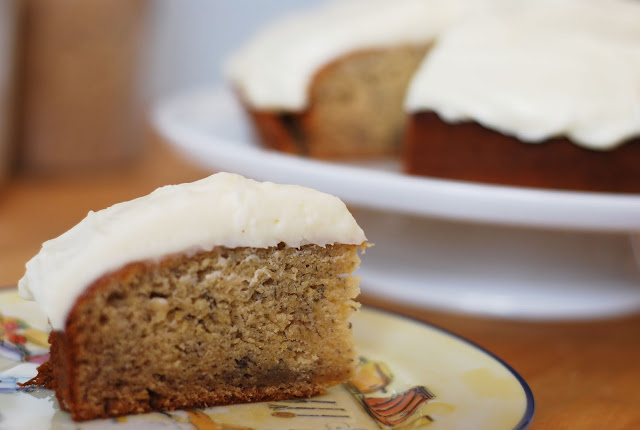 What do you do with all the bananas you promised to eat but didn't get to and now are
very
ripe?
Usually we make banana bread. Actually SB does this and I always encourage him to include chocolate chips, because who doesn't love chocolate and banana's. This time I wanted to do something different and was inspired by Ina, yes the Barefoot Contessa, yet again. What's not to like about her. The recipe is found in her latest cookbook
And it was easy. You can find the recipe
.
I love that the recipe called for zest of one orange. That orange flavor is perfect, enhances the bananas and brings depth to what might be an average cake. I think next time I'd add it into the cream cheese frosting as well. The frosting is delectable as it is, but that extra flavor would be fantastic. I left out the walnuts, for one I'm not a huge walnut fan, even though I ate them in droves when I was a kid. Plus I suspect I might be slightly allergic. But Ina includes them in her cake and decorates the top with them as well. Make it your own and ready a nice cup of tea to go along, which is exactly what I did.