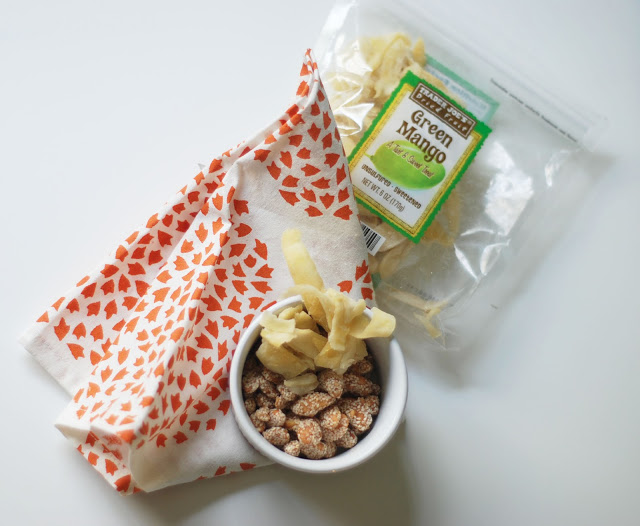 I have so much to share about AltSummit in Salt Lake City. This conference was beyond my expectations. I'm in the process of writing down the high points and action items for this space. I'll share more of that later.
Pre-Alt, well actually Wednesday morning, before our sponsored dinner that night I started planning my snacks. Everyone said you must have snacks during the day. I didn't want to pack snacks in my luggage and to take away valuable room for my wardrobe that I MUST have. So I did my research.
As many of you know who following me on Instagram (@itsweetsavory) I love Trader Joe's. The first thing I do when I get to a new city is look to see if they have a Trader Joe's. Low and behold Salt Lake City opened it's first TJ's in November. My plan was to go on Wednesday when I had all that time before the evening dinners. However, I got caught up in my explorations. Plan B was to get up early Thursday, 7:30AM walk to TJ's, it's only 7 blocks away, get my snacks, water, etc., and walk back to the hotel. Great plan right? Hmmm.
As soon as I embarked on my walk it started ice raining. I say that because as soon as the rain hit the sidewalks it was immediately turned into ice. So instead of walking to Trader Joe's, I skated to Trader Joe's. Oh and the 7 blocks, yeah not so much, those were LONGEST blocks I have ever skated. Seriously, this was another one of my idea's that seem great and immediately went bad. By the time I made it to Trader Joe's it was 8:10, I shopped in 5 minutes and then asked if they could call for a taxi. I was not going to walk back, it was a blizzard out there. After waiting 15 minutes for the taxi, he called back and said he couldn't make it, traffic was bad because of an accident. I started to freak now, I was going to miss the opening of the conference and have to walk back in a blizzard.
What was I wearing you ask? Well I got dressed for the conference, while my sweater, jacket, hat gloves, and shoes were warm, my pants were paper thin Banana Republic. That equals frozen legs beyond anything you can imagine.
Here's where I praise the frozen city of Salt Lake. Despite the cold and gloominess, everyone in this city is extremely nice and helpful. The Trader Joe's staff were amazing. One of the employees, Erman (I know I'm spelling his name wrong), offered to take me back to the hotel. At this point I was desperate and willing to go with any stranger, I actually pondered asking a few of the soccer mom's in the store for a ride. But this employee offered me a ride and insisted I wait in the store till he brought the car up to me so I wouldn't get wet. Seriously, who does this, nobody in L.A. would do this (yeah I know it never rains in L.A). He drove me right up to my hotel and I insisted on giving him money. I told him "now you've put Trader Joe's customer service to a whole other level."