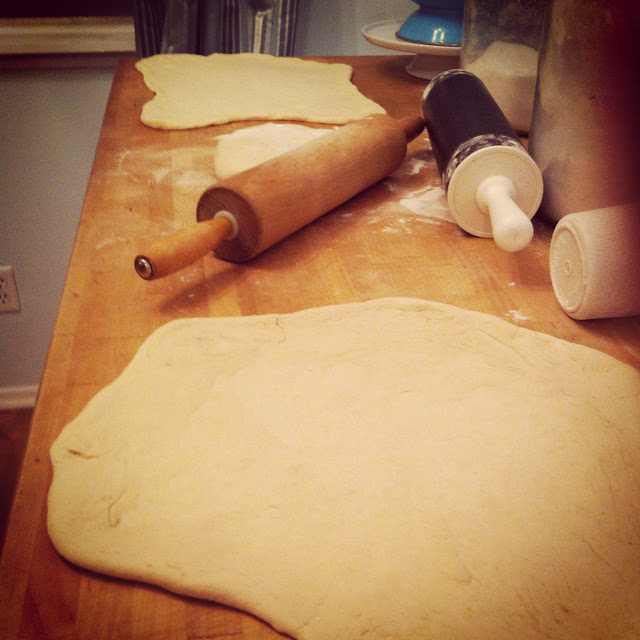 Let me tell you my story before anyone jumps to conclusions. Last weekend I played host to my niece (a dear friends daughter). We have no kids of our own so occasionally I borrow other peoples kids. Well frankly I love my friends children....especially when we get to give them back. [sly smile]
So I had a house full of teenage girls. I proceeded to walk them down to the mall, who wouldn't like the mall, I did, even if my feet didn't. Upon returning home we chose a movie to watch. I so thought this would be the easy part, teenager girls like chick flicks right....answer here would be NOooooooo! Though we did settle on a chick flick, iRobot was a serious contender, sorry Spongy, next time.
Ok, so why the pictures? Well I have added additional counter space for my kitchen, thanks to Ikea, It's a better place them my counter tops covered in 1960's old ceramic tiles (not the cool type, see below), that are broken and uneven. I sacrificed a kitchen table for more flat workspace. So I thought I would share it's multi-purpose use.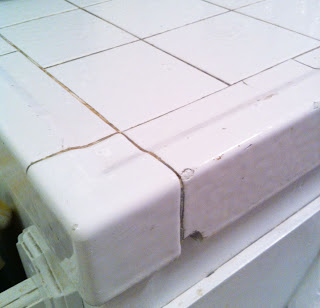 During pauses in the movies I had the girls roll out pizza dough, two girls to each pile of dough. Then we put them on pizza stones, they chose their toppings, I bake.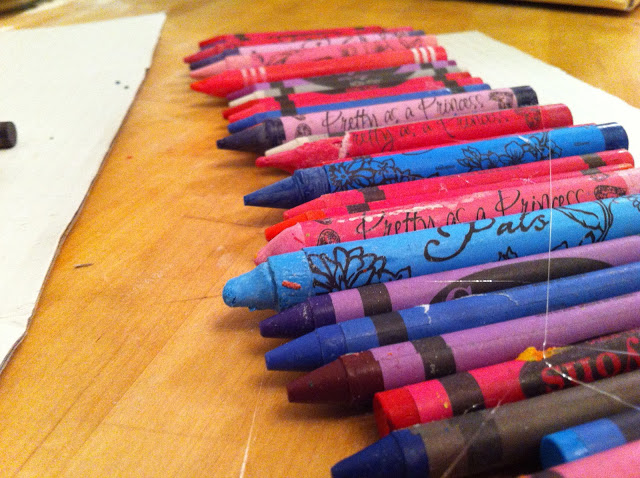 After pizza's were in the oven we cleared the path for our art project that would start after the movie. I got this idea from Pinterest and was posted from the 700 Experience blog
Those who follow me on Instagram (itsweetsavory) know I experimented with this by myself during the week before. By myself was the key problem, you need to have a buddy. So each girl picked her color palate with the box of crayons I scored from the 99 cents store. Then we took some cardboard and a glue gun and glued the crayons onto the board, leave one inch of the crayon hanging off the cardboard. Now it was ready for some melting.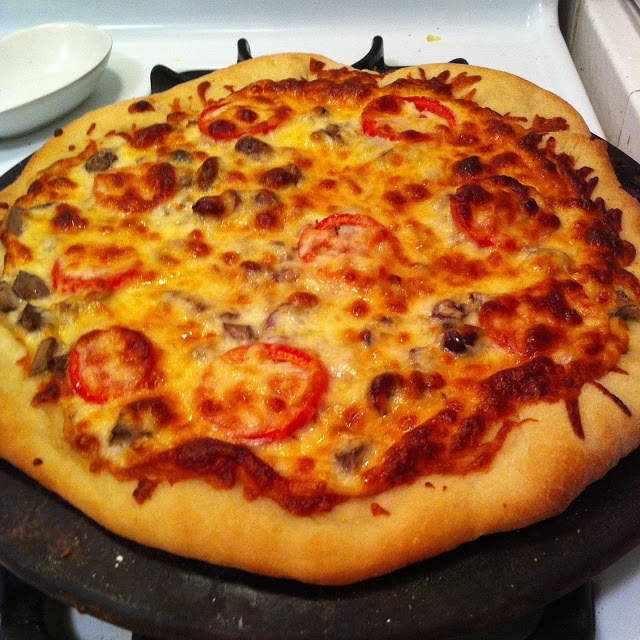 Speaking of melting, here's our last melted cheese and veggie pizza....Nice right. This was delicious. I made crust part easy and bought my dough from Trader Joes. Usually I make it myself, but I had too much to do. Toppings included cheese, obviously, tomato's, artichoke hearts, kalamata olives, mushrooms and pepperoni. I don't really like sauce on my pizza and though others do, I didn't remember this part, so no sauce.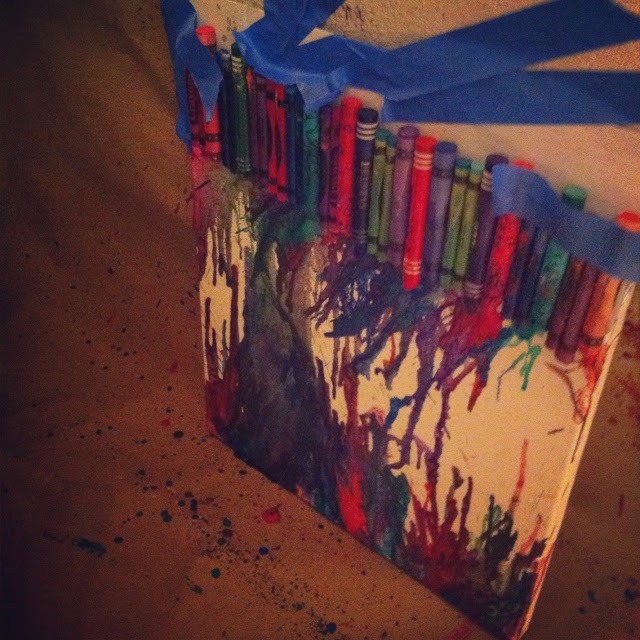 Back to the melting crayons. The girls perfected this part, they got tired of holding each other's crayons and figured out how to tape the cardboard with glued crayons on the wall behind. And yes I have splattered wax on my wall before I realized it and then we pulled up the craft paper and fixed that. Thankfully this is my patio.
One request I had made to a few mom's, was "have the girls bring a blow dryer", weird right, well that didn't happen so we had one blow dryer, mine. Yes I had to scrap off hard wax the next day. So,
not
complaining, because this was easy and the girls got creative. Some chose to cover the whole canvas and others just did one side and left white space below.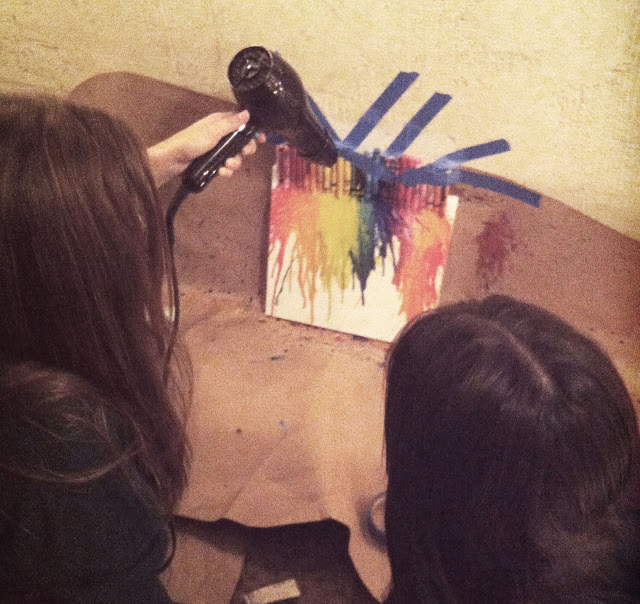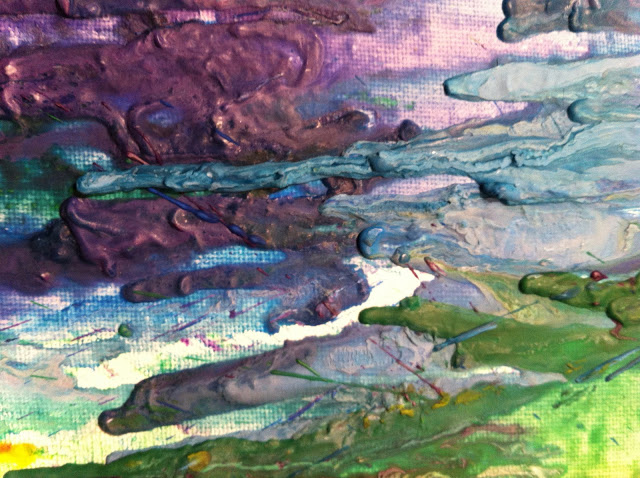 Here's one up close, great texture and color.
Have fun and enjoy your counter as much as I do. Enjoy!
This post is my entry into the Alt Summit Blog Carnival Contest sponsored by Wilsonart International, Inc.