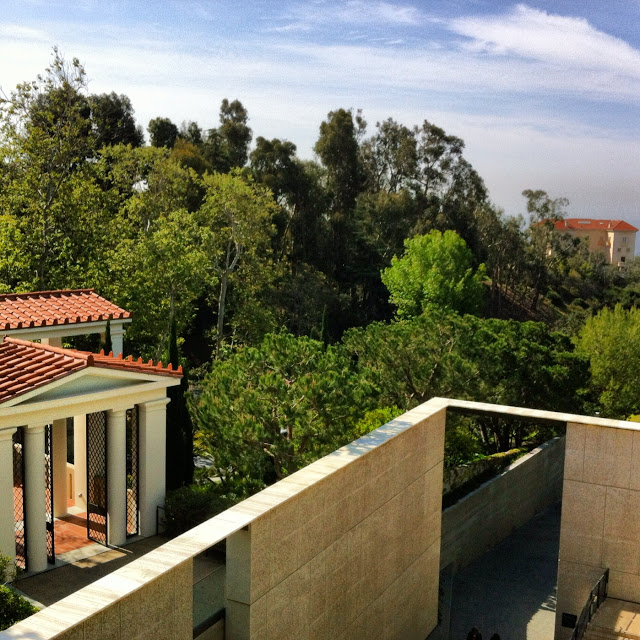 In the past I have posted some of my favorite books and one of them that I read often, sometimes once a year is
Under the Tuscan Sun
.
My friend Nancy told me that Frances and Ed Mayes had published a cookbook and that the book tour was bringing them to the Getty Villa in Malibu. I was too excited for words, so I booked a reservation for four people to the Getty Villa, you need to do this on their
. They don't charge per person, but per car, so I assumed my friends visiting and SB would go with me. Alas, on that day everyone had different plans. I called Nancy at the very last minute to see if she wanted to go with me, as I had turned her on to this book and she had told me about the book signing. She already had plans, so I ventured to one of my favorite places alone. Before I get to my story here are few of the my photo's of the Getty Villa, which houses J. Paul Getty's antiquity collection (lots of statues).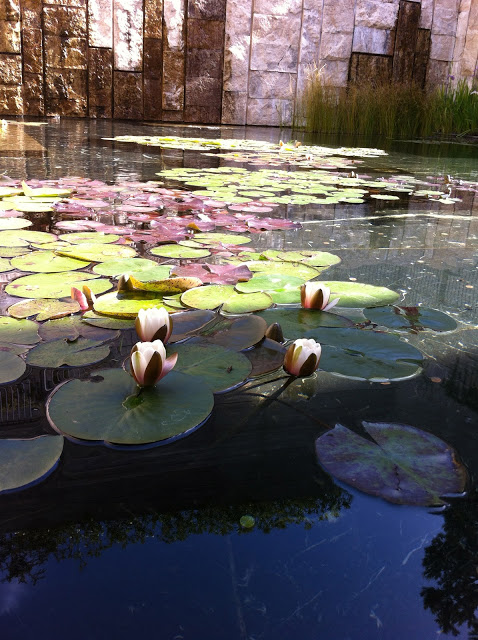 Water lilies by the water fall.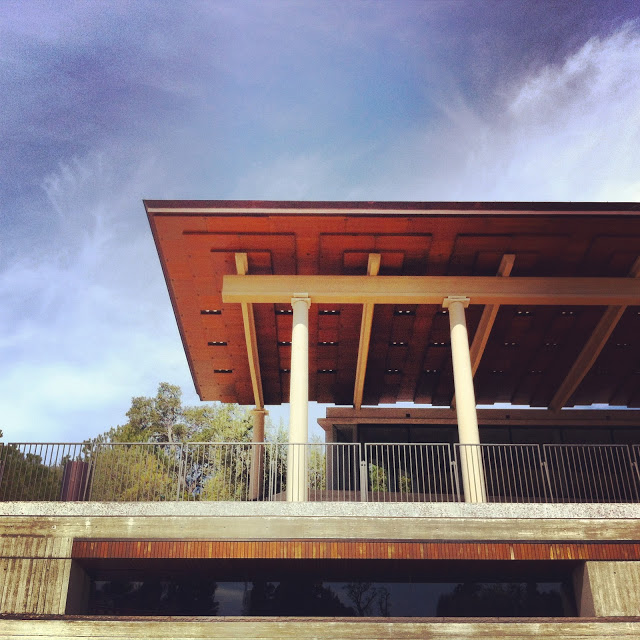 A view of the cafe....best museum food I've ever had.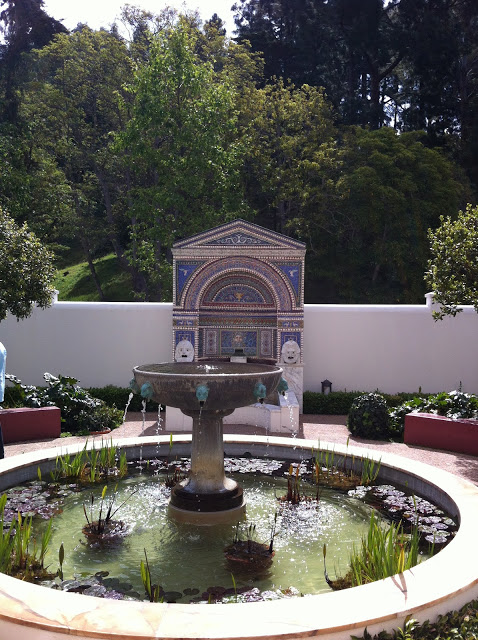 Beautiful tiled fountain.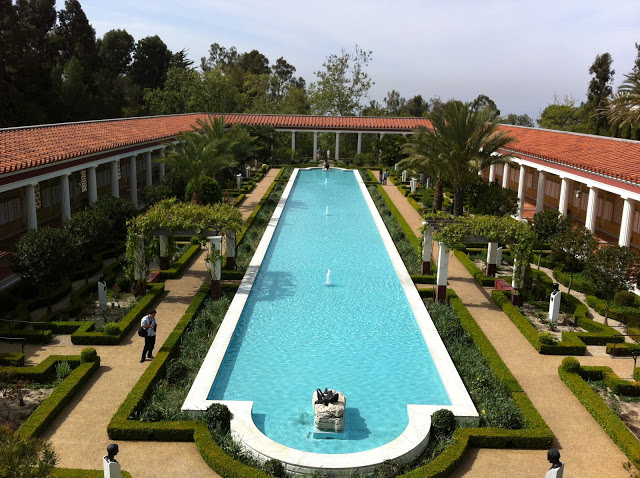 This is the best view of the pool and if you don't know this balcony below is here, you'll miss it. There is a door to the West of the upstair elevators. Push the handicap button and the doors will open to this balcony and enjoy the view. It's not always open, but if it is, go...and thankfully this is still a well kept secret. There is hardly ever anyone out there.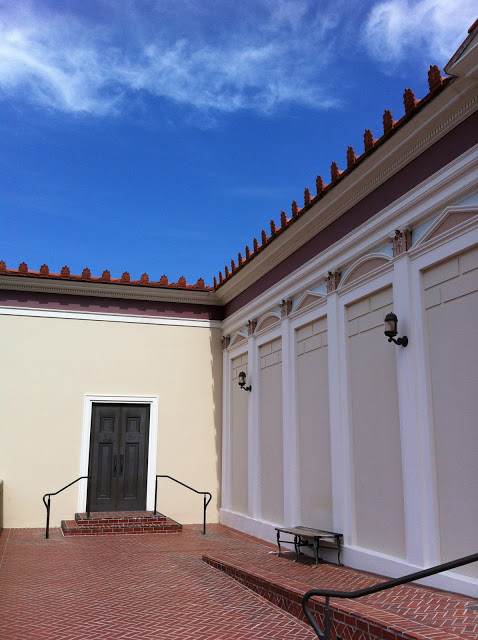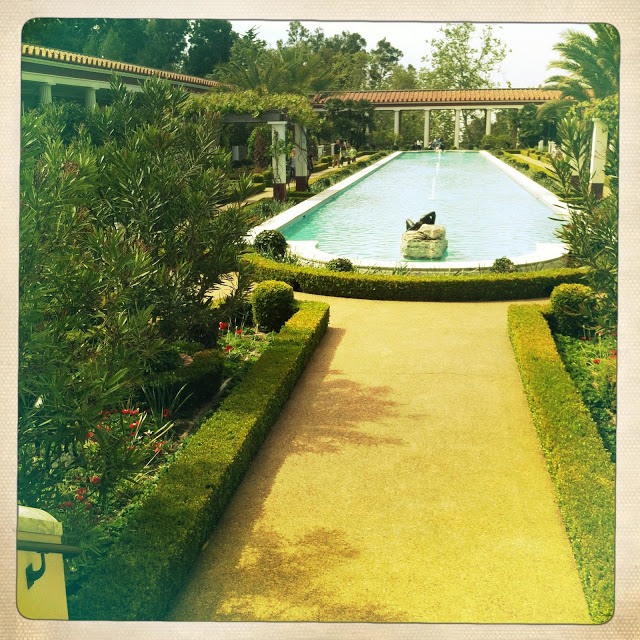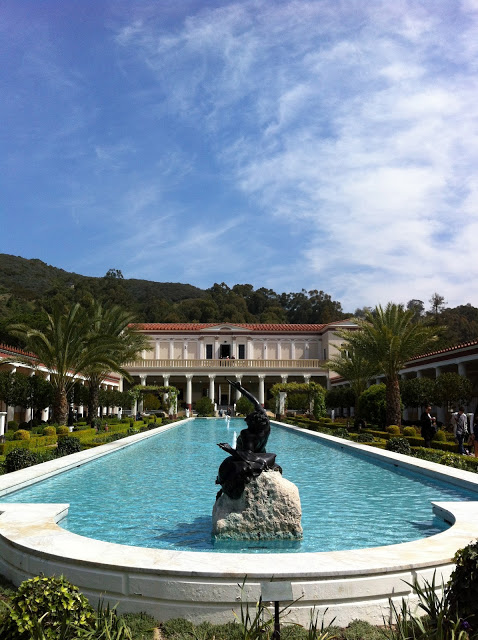 I got there at 10AM. No one was there, it was so empty, a class of kids was in the amphitheater and hadn't scattered thru out the museum yet, so I really had the place to myself. I found the book store to purchase this cookbook. You can purchase it
.
At the bookstore they'd asked me if I'd reserved a book, I hadn't and became worried. But they'd ordered extra so I got my book and then hovered near the table and line in the shade waiting for Frances and Ed. When they walked by I recognized her right away and said "hello," like I knew her, really I've never met her but felt like we were long time friends.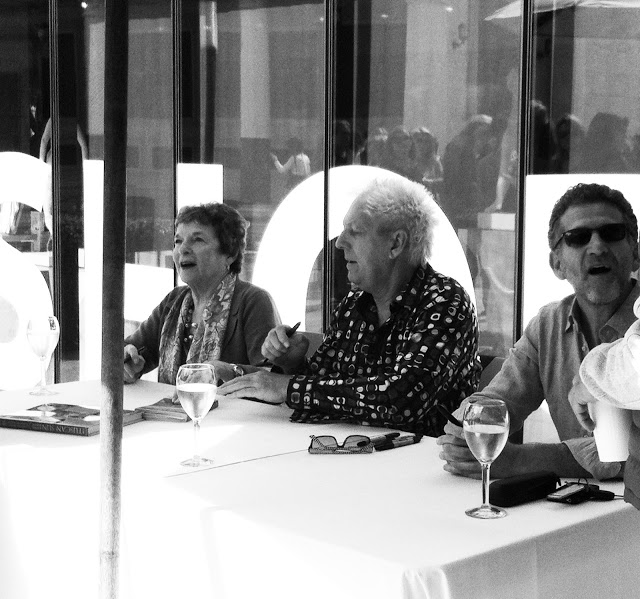 Two gentleman went before me in line and had bought every book she ever published and had her sign them all, she kindly did so and chatted them up. This took a while, then they gave her embroidered tea towels, really how can I compete with this thoughtfulness. It did bode well for getting my personal first edition copy of
Under the Tuscan Sun
signed, which I had brought with me. When it was my turn I was so excited and had her sign the cookbook and asked if she'd signed my
Under the Tuscan Sun
copy. I told her and Ed I read this about every year while drinking a nice glass of Prosecco (she introduced me to this delicious bubbly wine). Ed said "Good for you!" The third person at the table happened to be the photographer. I had looked at the photographs and thought they were lovely so when I got to him I asked him if he'd sign his favorite picture. This is like asking someone what there favorite city was on a European tour, or your favorite pastry at Laduree. He couldn't find one of his favorites but described which one it was, it's the vegetables against the plastered walls of Bramasole (the Mayes home in Tuscany). Later on in the day I found it and almost went back to have him sign it.
It was only 10:45 by now and someone mentioned there was a lecture at noon, this series is called: Celebrity Chef Series: Frances Mayes (The Tuscan Sun Cookbook: Recipes from Our Italian Kitchen) Author Frances Mayes speaks on the occasion of the publication of her first-ever cookbook. Mayes talks about how this cuisine transports, comforts, entices, and speaks to the friendly, genuine, and improvisational spirit of Tuscan life.
I wasn't planning on staying that long, but I thought I'd wonder thru the museum as it wasn't crowded and explore images I might want to take and see if there was anything new. I've been to this museum many times before and after the remodel. It's like being transported to Italy. Such a beautiful re-creation of an Italian villa. Below are some of the patterns, textures, and tromp l'oeil you'll see everywhere.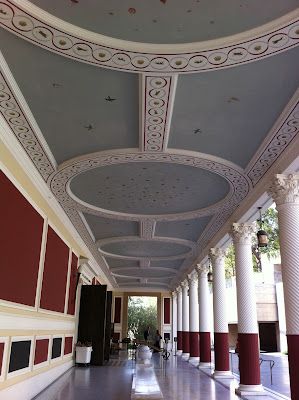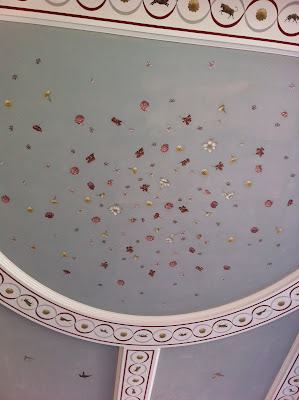 This is technically the entrance of the museum. Make sure to look up, the ceiling is beautiful.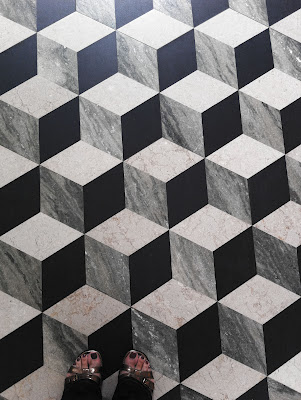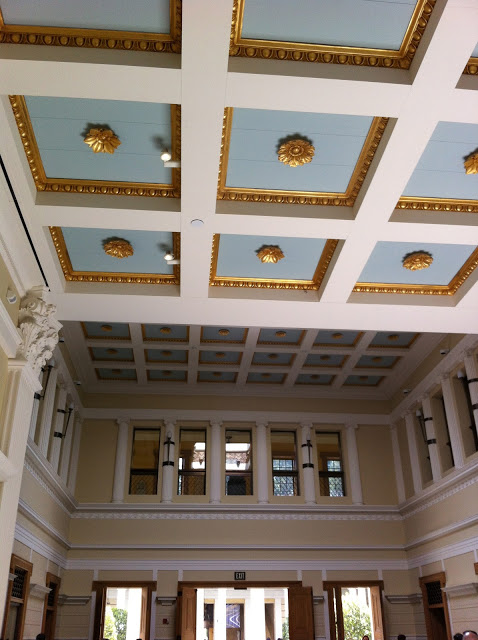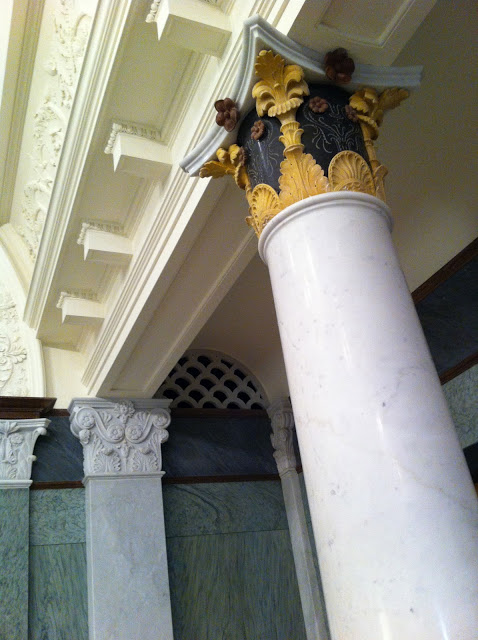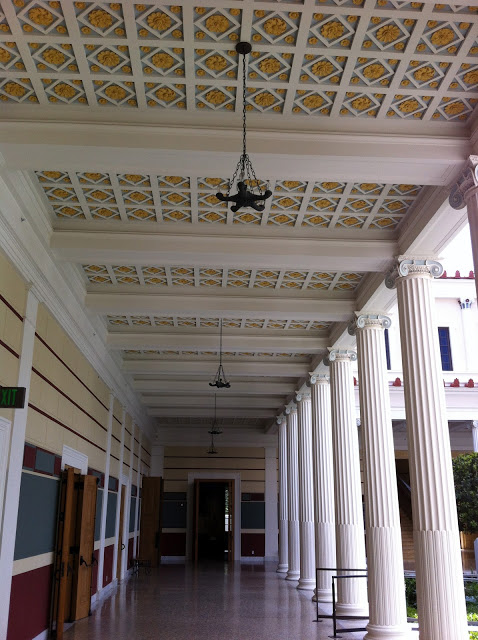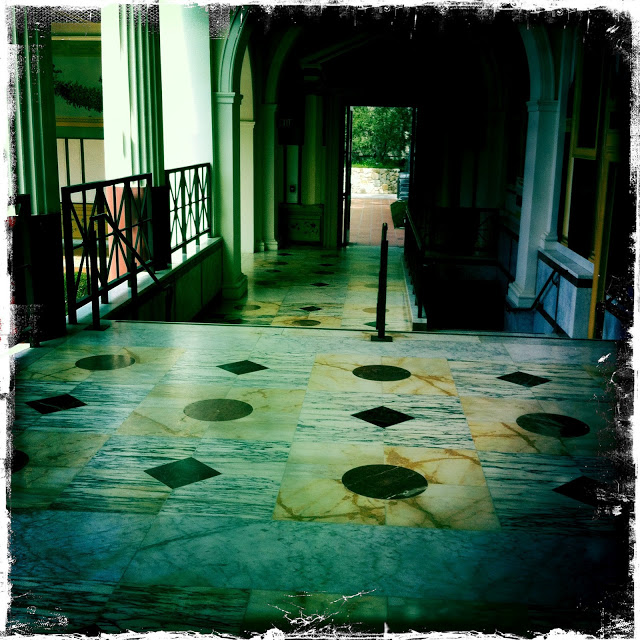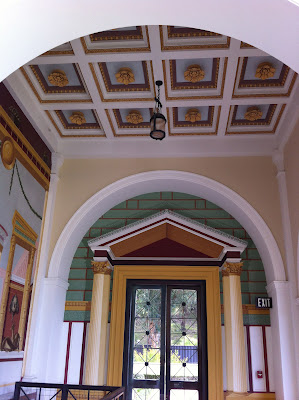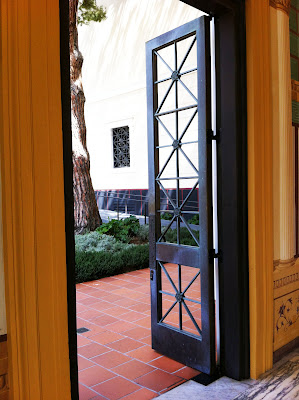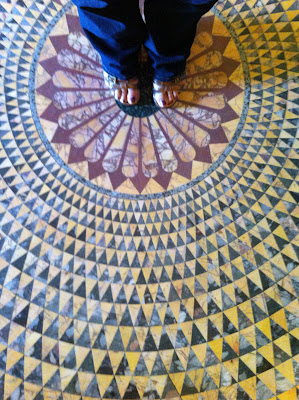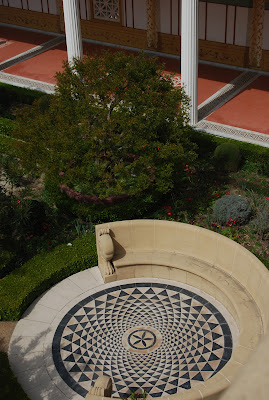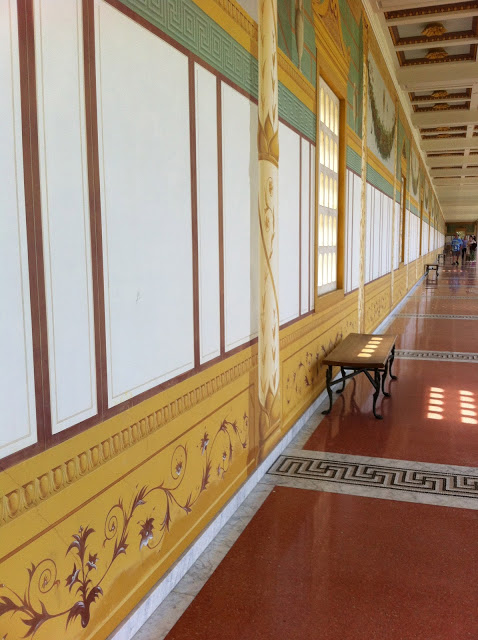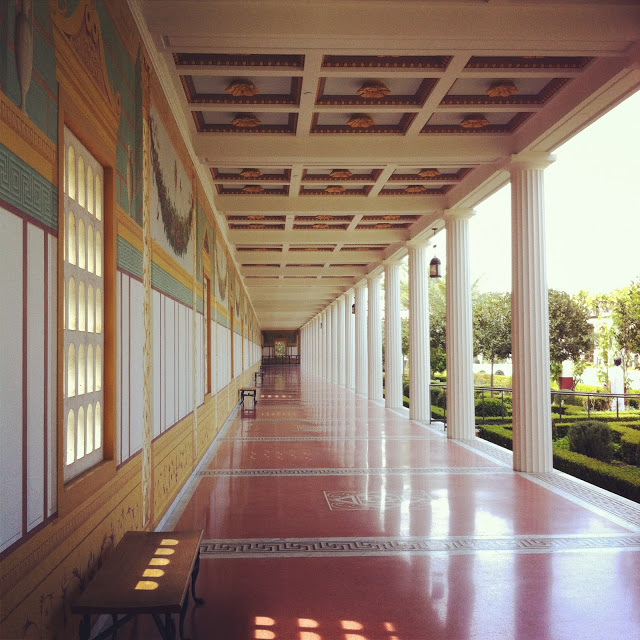 By noon I was still there so I went to see if there were any tickets left, they are free, they handed me one and I went into the auditorium. Bon Appetit introduced her, did you know they manage the cafe at the Getty Villa? This makes sense as the food is delicious. Her reading was poetic and painted many word pictures. I kept thinking how glad I was in this position to come on a Wednesday morning to the Getty Villa at the last minute and hear one of my favorite authors describe the Italian life she'd made for herself and how people thought she was crazy to start this venture, I was inspired and moved. After the reading we were allowed to ask questions. Not many went up, so I asked why she choose Cortona of all the places in Italy to live [she'd initially stayed there on her first visit to Italy as it was centrally located to where she wanted to tour, after that she kept coming back, so it seemed a likely place to set roots]. Someone else asked her about the difference in writing a cookbook versus her travel logs [much different, she hadn't realized the ingredients were listed in the order you put them in dish].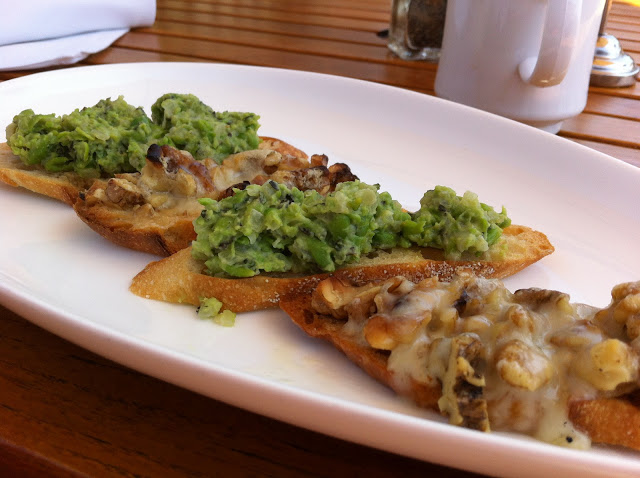 By this time it was 1PM and I was hungry, the cafe was making a few of the recipes in her book, so I went up there and order the crostini. These were so savory. The Pea and Shallot had a hint of mint, a surprising refreshing burst of flavor in your mouth. The other crostini was Pecorino and Nut (walnuts). Nutty from the walnuts and cheese with a tangy salty flavor.
Some of my favorite statues....and well, one that scares me to death, I use to dream about this "chicken lady" chasing me thru the ditches in New Mexico when I was a kid. Yes I know I need therapy.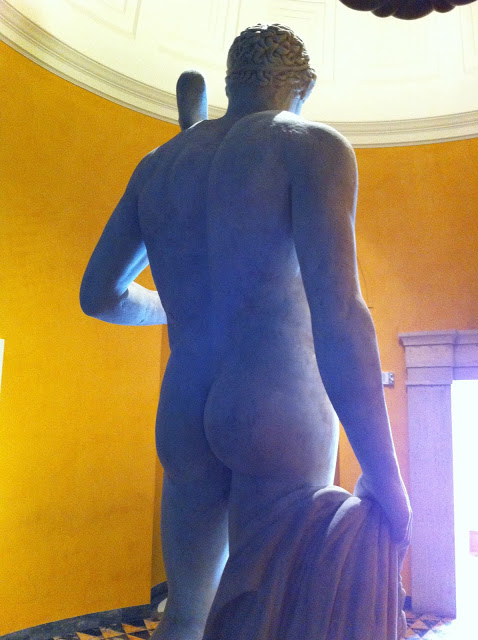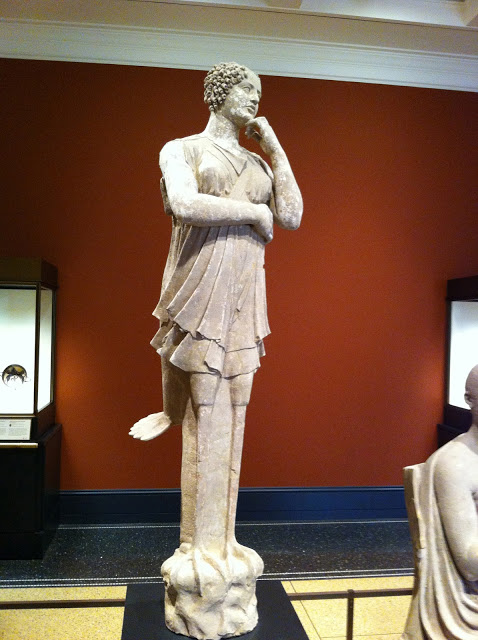 A Siren...but I call her the "Chicken Lady."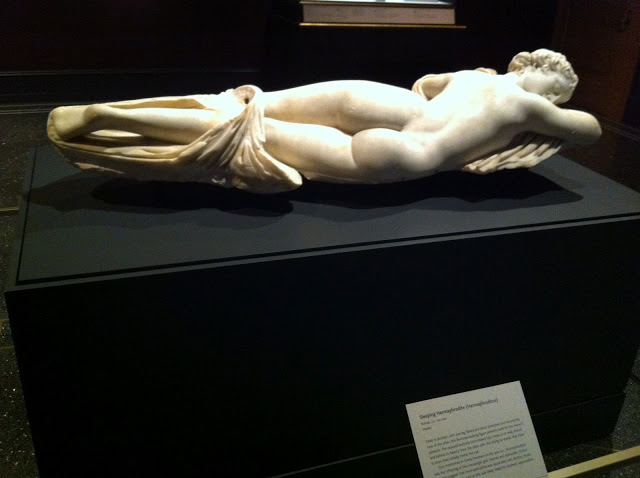 For some reason this one reminds me of the statue I saw in the movie "The Saint". I believe the statue I am referring to is at Oxford, at least it was in the movie.
After this lovely afternoon I walked thru the herb garden and headed home. Funny thing was Nancy deeply regretted that I didn't talk her out of her plans (which I really couldn't have). She ended up having to drive down to Costa Mesa to get a signed copy of the books as the Getty Villa had sold out. It was a fun adventure for the day. I can't wait to have a few more.
Getty Villa
17985 Pacific Coast Highway
Malibu, CA 90265
(310) 440-7300