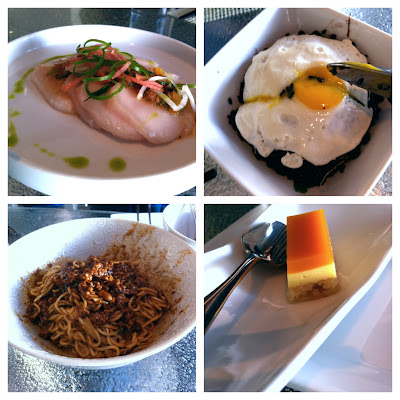 You know how you find a place that excites you, and introduces you to new tastes and flavors that you add to your diet. Something that forever changes your perception of a food group. No? Well I have.
What is Lukshon? Lukshon is the creation of one of L.A.'s most celebrated chefs, Sang Yoon. It is a modern take on authentic South-East Asian Cuisine and its wonderfully diverse ingredients.
My co-worker and I ventured to this place at the Helms Bakery area, next to Room & Board and Father's Office. The food is amazing, exotic flavors full of spicy bits and tangy citrus. I really haven't eaten anything there I didn't like. First time we went we order about 6 things. The rices are so delicious. I've had the black rice with an egg, sunny side-up (AKA: heirloom black rice) and the other dish I love is the x.o. rice. N. loved the dandan noodles. First taste of that after he mixed all the goodness in the noodles and I seriously started sweating with the heat from the sichuan peppercorns. This is a tasty, but very spicy dish. Must have rice and water too cool down the temperature. The special appetizers or small plates are always a treat. Because I've had the roasted brussel sprouts here it is now one of my new favorite foods is and it's because of this place. Post coming soon on that.
They always follow-up with a beautiful, comped, dessert. First couple of times it was a refreshing spoonful of sorbet, then candied fruit jelly and the last time it was a tiny mango cake.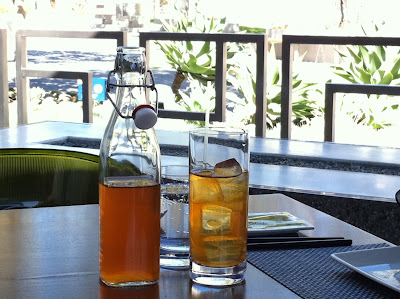 Oh and the tea's are beautiful and refreshing. I've yet to have any alcohol, since it's always a work day lunch. No liquid lunches for me these days. But I'd recommend this as a date place. Great location, zen modern decor. I'm going to get SB there soon enough.
Lukshon
3239 helms ave. culver city, california 90232
http://www.lukshon.com/